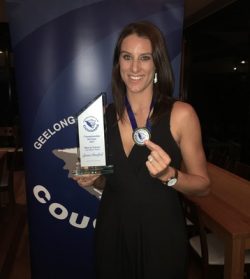 The Geelong Netball Club celebrated its best Sunday following its dual-premiership-winning season.
Goal defender Jessica Standfield won the Meany Medal for the club's overall best and fairest.
Standfield polled 23 votes, including six best on court performances during the 18 round season while Kate Thompson came a close second on 21.
The super competitive defender applied relentless pressure to her opponents, said Netball Victoria Barwon region manager Mel Taylor.
"She reads the play extremely well which enables her to take a lot of intercepts and affect many deflections."
Jess returned to the Victorian Netball League competition after 10 years playing domestic level competition.
She represented the Melbourne Phoenix through the 2005 and 2006 Commonwealth Bank Trophy seasons and now coaches the Torquay Tigers Premier Division team.
Defender Allie Smith, who turned 17 this season, won the best and fairest in Division One after her promotion from the under 19s.
"Allie's timing and her ability to read the play enabled her to intercept many attacking passes, which truly showcased her athleticism," Taylor said.
Smith made the Victorian team and the Australian squad in the under 17 division in 2016 and this year.
She also made this year's Victorian Netball League 2017 Team of the Year in Division One.
Jaimee VanLeerdam and Ellen Doyle tied for the under 19s best and fairest.
It was the first season at the Cougars for both the goalkeeper and goal shooter.
VanLeerdam impressed with her defensive smarts, using her movement and vision to closely guard the opposition shooters.
The consummate team player partnered with her co-defenders for maximum impact, Taylor said.
The versatile Doyle showed the ability to swing forward or back, but spent the majority of the season at goal shooter.
Doyle stepped in for experienced goal shooter Gabby Reinets, who suffered a season-ending injury.
"Ellen showed great maturity stepping up and becoming the starting Goal Shooter in the under 19 team," Taylor said.
"A magnificent effort for such a young and inexperienced player."
Both made the Victorian Netball League 2017 Team of the Year for the under 19 division.