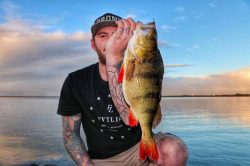 On the Bite, by Chris Pitman
Anglers had to contend with strong winds again over the past week.
Peri Stavropoulos sought shelter for land-based fishing on Geelong's waterfront.
Casting soft plastics, Peri landed Australian salmon to one kilogram that gave him a run for his money on light tackle.
When the wind settled, boat anglers also found great numbers of salmon on the inner-harbour along with pinkie snapper and the odd flathead.
Clifton Springs hosted salmon in large schools, betrayed by birds working the baitfish. Squid were a viable target when the water was clear and the wind backed off.
Nearby, the Point Richards channel produced gummy shark to 6kg on pilchards.
St Leonards saw a few whiting come on the chew for anglers fishing pippie as bait. The Bourke St area was a great location because it held numbers of fish and was not too far from the ramp if the wind picked up.
Anglers chasing big squid got their fix again at Queenscliff, with the area from the grass beds to the bight giving up bag-limit captures.
Off Shore reports slowed due to the weather but anglers who braved the conditions boated gummies to 20kg. Fresh salmon baits did the trick.
Bluefin tuna to 120kg were encountered from Portland to Port Macdonald. Trolling Skirted lures was the most effective tactic.
Freshwater fishos tangled with some impressive brown trout over 4kg at Lake Purrumbete.
Casting or trolling lures along the weed banks was the way to go, especially with longer minnow-profiles.
Closer to home, Stony Creek Reservoir was a hot spot for brown trout to just on 1kg.
Casting pink, 13.5g Tassie Devils in colour #55 was by far the most effective method, with the odd redfin taken as a bycatch.
Wurdee Boluc Reservoir kept dedicated anglers busy in the hunt for trophy trout.
Rainbows and browns to 1.5kg were banked at first or last light, with the Reliable Norries Wasabi spoon working well.
Graeme Findlay put in plenty of time at Wurdee recently, landing a well-conditioned redfin of 45.5cm while casting a hard-body lure.
Next week, any breaks in the weather should be worth fishing offshore for gummy sharks, with and birds working the surface nearby possibly an indication of bluefin tuna hanging around.
Inside the bay, Queenscliff will hold large squid for anglers fishing baited jigs down deep.