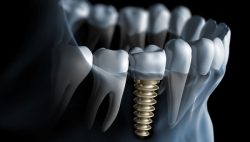 Those who are missing one or more teeth may be all too aware of their importance to looks and dental health.
Teeth are designed to work together to help chew, speak and smile.
It is difficult to do these things when teeth are missing.
Even the loss of back tooth may cause the mouth to shift and the face to look older.
Fortunately, missing teeth can be replaced.
There are three options a dentist may suggest, depending on needs.
Replacement teeth should last for years at a time so it is important to choose the correct treatment.
The options are implants, fixed bridges, and removable partial dentures.
Many patients choose implants to replace a single tooth, several teeth, or to support a full set of dentures.
Implants are posts that are surgically placed in the upper or lower jaw where they function as s sturdy anchor for replacement teeth.
They are made of titanium and other materials that are accepted by the human body.
Another tooth replacement option is a fixed bridge.
This is a restoration that fills the space where one or more teeth have been lost. A fixed bridge is bonded or cemented into place.
A removable partial denture can easily be taken out of the mouth for cleaning.
Partial dentures usually have replacement teeth fixed to a plastic base that matches the colour of the gums.
The plastic base may cover a metal framework. Partial dentures often have some form of clasp that attaches to natural teeth.
Book a free dental implant consultation with Dr Rashi Gupta at Norlane Dental Surgery on 1800 246 247.