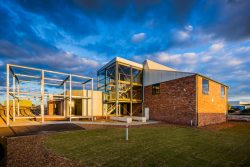 Local building company Rendine Constructions is the winner in the Advanced Manufacturing and Industry category at the Powercor Geelong Business Excellence Awards.
Rendine Constructions is a second generation, family owned and operated company.
Its journey began in 1973 as a small carpentry subcontractor. Founder Laurie Mills traded on a reputation of delivering quality workmanship, giving the company a name synonymous with excellence, value and integrity.
Yet it was never the intention of the company to rely on its talents as builders. The company understood that by working with its suppliers and clients, it would deliver even better results. Operating on the principle of nurturing long-term relationships for the benefit of the projects and ultimately the client has led to the company's current standing.
Today, Rendine Constructions, managed by Laurie's son, Greg, is a highly successful multimillion dollar commercial and civil construction builder, with an established reinstatement division.
The team of 27 boasts estimators, engineers, project managers, trade qualified foremen, labourers and a supporting marketing and accounting administration team – this collection of expertise is rarely found within a construction company.
Together they have delivered countless first-class constructions across Victoria, valued up to $10 million. Fire and ambulance stations, supermarkets, schools, road and bridge works, warehouses, sporting stadiums, libraries and community centres represent some of its achievements.
The company's scope is almost unlimited, building for government departments, private developers and commercial enterprises across multiple sectors including education, health, aged care, sporting, manufacturing, tourism and industrial.
Operating under the motto 'Anything is possible', Rendine's dedication to excel beyond the status quo sets it apart from other construction companies.
Rendine's goal now is to create a long-term, sustainable company with multiple income streams.