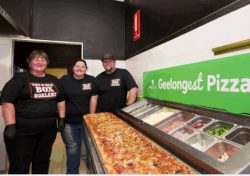 First The Peninsula Hotel turned up the scales with a 3.5kg, 36cm-diameter hamburger for which its intention of free publicity was richly rewarded.
Not to be outdone, Norlane's The Pizza Box burst the button a couple of days later with a two-metre monster of crust and toppings.
Certainly a challenge for the biggest glutton, the "Geelongest Pizza" also kept the takeaway busy solving obvious cooking and delivery issues, said owner Kali Hovey.
Big burgers, big pizzas – what's next? Is anything left?
Double Take suggests a Big Curry.
Followed in the morning, of course, by the Big…
Meanwhile, and somewhat more unexpectedly, a rogue robot will go on a rampage of destruction at Waurn Ponds this weekend.
Well, that's in virtual reality, anyway, as part of an odd open day activity at Deakin University's southern campus.
Prospective students wearing VR headsets will have just three minutes to stop "Pixel the Robot" wrecking a High Voltage Laboratory as the high-tech vandal appears around the campus in a series of CCTV images, the uni explains.
Alternative activities across Deakin's two Geelong campuses include a discussion on women in sport and a demonstration of midwifery skills.
Without disrespect to the latter offerings, a virtual-reality battle with a robot on the loose sounds just a little more exciting!