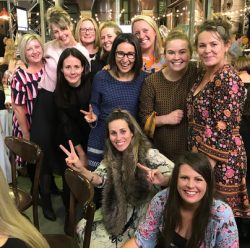 Category: Retail and Business of the Year
Winner: Oishi-m
Torquay-based children's brand Oishi-m is the overall winner of the 2017 Powercor Geelong Business Excellence Awards.
The company, whose name is pronounced oy-shee-em, was announced as Business of the Year after earlier winning the retail category of the region's biggest business awards during a glittering presentation night at waterfront Geelong's The Pier on Thursday night.
Established in 2005, Oishi-m is a flourishing business with a Torquay store, an adjoining head office and global e-commerce website.
Oishi-m says it produces the opposite of fast, throwaway fashion. Its quirky, colourful garments are instead designed for functionality and comfort, generating comments wherever children adventure and play.
Oishi-m outfits are designed to endure as hand-me-downs, giving each wearer a lasting, positive experience for children aged from three months to eight years.
Founded on talent from Torquay's surf industry, the business is run mostly by 15-plus parents working part-time or casual hours for an equivalent 6.25 full-time positions.
Oishi-m.com shipped 12,000-plus orders all over Australia and to 37 countries worldwide last financial year.
The beautiful Torquay store is packed with the brand's own designed-and-developed products, along with Australia's most impressive toddler footwear collection.
"Oishi-m is an independent Australian children's brand amplifying the stoke of childhood," the company says.
"From our unique and cherished clothing to the communities we nurture, we believe our business can be a force for good as we help express and celebrate the personality in each child."
Oishi-m has set a five-year focus to:
• be Australia's coolest children's-wear store – a must-visit destination for visitors to Geelong and the Surf Coast;
• be front of mind for cool, funky children's clothing and footwear;
• achieve online sales growth aggressive domestically and organically internationally;
• capitalise on exposure, such as through Channel 10's Offspring show;
• continue providing a great workplace;
• continuously improve customer experience, and
• remain a sustainable business, valuing the work/life balance.