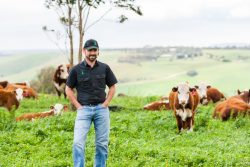 Local butchery Sage Choice reached the finals of the Sustainable Business category at the 2017 Powercor Geelong Business Excellence Awards.
The core values of the Sage integrated farming enterprise include natural, local, traditional and ethical.
Sage Choice has grown from a part-time beef farming hobby for founding owner Chris Balazs to today's integration of three farms, 15 farming partners, an on-farm butchery, wholesale distribution, retail outlet and an online store.
Harking back to traditional farming techniques, bespoke butchery and natural wholesome foods are the tangible aspects of Sage's vision of creating an integrated food production company.
The whole carcass butchery, providing "hard to get" bespoke cuts of meat is famed as the base for creation of premium dishes and keeping artisanal butchery alive.
The regenerative farming practices provide the production performance for the livestock while regenerating the environment.
Always looking to re-invent, Sage Choice is growing its product offerings, bringing on eggs, pork and soon true free range chicken meat. The company supports the staff of Sage to be actively engaged in growth by taking on new initiatives like agri-tourism strategy including workshops and farm tours.
Although the company actively boasts a multi-tier marketing strategy, developing and promoting its product types and sales channels, the central strategy of Sage Choice this year is "to bring them to the farm".
This is a point of difference to other butcheries and a definite competitive advantage. Likewise, the farm has an artisan butchery with complete processing transparency which is a point of difference to other farm-based meat producers.