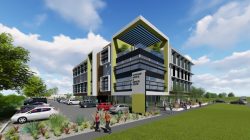 A Geelong builder has won $42 million in western Melbourne health care projects eight months after securing a contract to build Geelong's NDIS headquarters.
Techne Development said the two Wyndham Health Precinct projects followed the company's work on $80 million worth of other health-care buildings in the area over the past five years.
"We understand what's required in health and have a proven ability to deliver demand driven service-based facilities," said Techne managing director Scott Vickers-Willis.
"Winning the NDIS bid clearly showed that the Federal Government was also confident in our ability to deliver an exemplary model of accessibility design."
The Geelong NDIS project, incorporating the façade of the former Carlton Hotel, near the intersection of Malop and Myers St, is valued at $120 million.