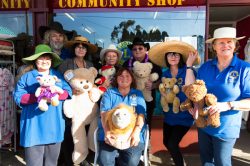 By Luke Voogt
A recent op shop purchase will put "thousands of dollars" back into the north Geelong community according a local Lions Club.
The Corio Norlane Lion Club's John McKinnin led efforts to raise the money to make the purchase "viable" alongside fellow member Linda Rudge.
"Once it's actually standing on its own two feet we're looking at least $30,000 per year going back into the community," the 74-year-old said.
The club will take over ownership in September following the $195,000 purchase.
The purchase would eventually save the club the about $12,000, the amount it had paid per year for the lease, Mr Kinnin said.
"We invested a lot of time and effort into it."
The store was more an op shop, the Norlane local said.
"It's started to become a drop in for locals who are having trouble or just want to come in have a cup of tea."
Lions Club funds and profits from the store paid for the $35,000 deposit, while members, families and friends raised a further $24,000 for stamp duty and "viability".
"When the shop can stand on its two feet they'll get their money back," Mr McKinnin said.
The eventual savings would go to the Lion's breakfast programs at Northern Bay College, supporting Geelong's homeless and other community projects, Mr McKinnin said.
"If we can help someone we do."
The long-time club member repairs bicycles and gives them a "new home" with Geelong's "needy".
"I've been able to do about 1100 bikes in two years," he said.