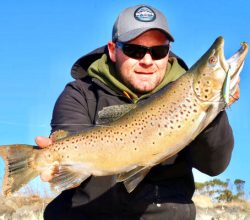 On the Bite, by Chris Pitman
Corio Bay's inner-harbour produced pinkie snapper to an impressive 45cm on soft plastics over the past week.
Anglers fishing land or boat-based reported excellent results, with the odd large school of Australian salmon appearing to take the same plastics presented for the pinkies.
Daniel Sparks was after something a little larger when he put in a few hours fishing around the bay. He was successful, too, boating a 7.35kg snapper after an extended fight on 1kg line.
Clifton Springs presented anglers with chances to fish for squid during breaks in the weather. Size 3 jigs worked slowly over the weed beds returned the best results.
Queenscliff was the destination of choice for anglers seeking big-season squid. Trelly's Kevin Hunter boated several on baited jigs in the bight, noting that the squid were more interested in baits than artificials.
Nearby, whiting were a little hit and miss, but the grass beds produced a few fish to 45cm.
Stephen Goodall took the trip down to Bancoora where he beached numerous salmon over 40cm on bait and lure. Sea Iron Pelacus lures worked well and allowed for long casts.
Anglers fishing offshore from Ocean Grove and right along the western coast had little trouble boating impressive gummy shark to over 20kg.
Freshwater fishos found the going still good.
Michael Evans had great results casting Fish Arrow Three Shot Minnows at Wurdee Boluc Reservoir, banking a brown trout of 61cm and 3kg. He also went on to land a few redfin to 40cm.
Lake Purrumbete produced mixed bags of brown, brook and rainbow trout along with redfin. By far the most successful tactic was casting hard-body lures around the weed bank edges at first or last light.
Lake Bullen Merri's Chinook salmon continued having a crack at hard-body lures trolled around Potter's Point. As the weather begins warming up, downrigging should help the bite window last longer.
Next week, anglers looking to wet a line should consider Queenscliff for big squid, especially in the bight on a run-in tide or around the pilot boat jetty and grass beds. Freshwater fishos should head for Lake Purrumbete where a variety of species promise plenty of action.