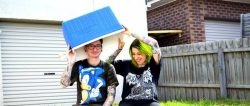 By Luke Voogt
Von Stache will bring a giant eyeball and their trademark on-stage rowdiness when they launch their latest "party punk" EP on Saturday night.
One half of the Geelong band, Sarah Armstrong, spoke to the Indy this week as she paper-mached a three-foot balloon for the gaudy prop.
"I'm just going to smash it anyway," the guitarist and singer known as 'Saspot' said. "I've got heaps decorations going on.
"I'm hoping to get some drinks specials too – our crowd are big drinkers so venues probably love us."
After more than a decade performing, Armstrong still dreams of making it big in the industry.
But she works full-time in a call centre "because music don't make you no money – it makes you poor".
The long-time musician has released 30 original tracks since 2011 and has alternated between synth, acoustic and electric guitar gigs.
"I started playing guitar when I was 13," the 29-year-old said. "Mum and Dad both loved music.
"I had other stuff when I was younger but I won't count that – it was a bit embarrassing."
The then-solo artist again reinvented herself in late 2015 when she joined forces with drummer Ryan 'Slick' Trickey .
"I was a bit of a loner," she said. "He came to a gig and I was playing by myself and he said 'I really want to play drums for you'."
The 26-year-old, who Armstrong knew from high school, quickly became the "brains" and sensible half of the group.
"He puts up with all of my onstage nonsense," she said.
"He drives me and babysits me when I get too trashy at gigs. Sometimes after shows I've said to him I'm so sorry about that and he's like 'That's alright'."
The quirky Armstrong named her band after her sister's dog Luca Von Stachian.
The former DJ has some odd credits to her name, like winning a competition to remix the attempted Italian accent of Triple J's Richard Kingsmill into a dance track.
Kingsmill applauded the tune, which "perfectly captured the crapness of my Italian accent.
"True to really bad Italian techno, the music and pitch-shifted vocals were incredibly repetitive and annoying," he said.
Armstrong said her last EP launch got a great response and that the best gigs were "when you can tell people are watching".
"One time we dedicated a song to tumbleweed because there was only three people there, but no-one laughed," she said.
"They had double-booked us and we had to play in the afternoon. It was character-building."
Von Stache launches Quiet, Brain at Barwon Club on Saturday night, alongside Chuck, Bound By Hound and The Burbs.