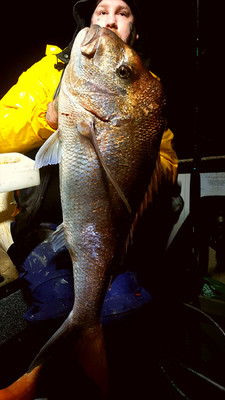 On the Bite, by Chris Pitman
Corio Bay was a popular destination for anglers to escape strong winds again over the past week.
Leigh Mcauliffe fished at anchor with pilchards during the early evening off Geelong's waterfront for winter snapper. His rod eventually screamed to life, leading to a major fight before Leigh subdued a monster one-metre snapper of 11kg.
Land-based anglers at St Helens found large numbers of garfish willing to take small amounts of silverfish suspended under a float.
Walking the waterfront and casting soft plastics produced pinkie snapper and the odd Australian salmon to 40cm. Matching plastics with jig heads heavy enough to make long casts caught the biggest bags of fish.
St Leonard's fished well for squid, with anglers casting size-three artificial jigs from the pier banking reasonable numbers into the evenings.
Boat anglers caught limited numbers of whiting along the section of water know as Bourke Street.
Queenscliff produced a few large squid but with the wild weather held anglers back.
Surf beaches continued fishing well for large numbers of salmon on metal lures or baits such as pilchard and blue bait. Bancoora was the standout location, with Jan Juc and rock platforms between Anglesea and Lorne also popular.
Surf Coast creeks continued producing quality winter bream. Scrub worms and freshwater yabbies were the baits of choice, while lure anglers were successful with lightly weighted grub-style plastics fished in the deeper parts of estuary systems.
Freshwater anglers landed some well-conditioned redfin at Wurdee Boluc Reservoice. Long casts helped angler achieve better numbers of fish.
Lake Bolac kept anglers chasing rainbow trout busy. Trolling shallow-diving minnow lures resulted in fish to 1.5kg.
Closer to home, the Barwon River in Geelong gave up some redfin to 30cm on soft plastics and small hard-body lures.
Next week should provide some chances to target big squid at Queenscliff, while freshwater anglers should keep casting away at Wurdee Boluc.