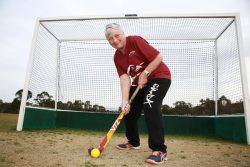 Goalkeeping granny Claire Barnes (pictured) has notched up yet another milestone, playing her 700th game.
But in typical fashion the 63-year-old used the achievement as just another chance to spruik the sport and club she loves.
"It's been terrific to be involved over the years," Claire told Double Take.
"Newtown City Hockey club is happy to have new players and new members any time of year and at any age."
The club celebrated its 40th anniversary this year, with Claire a member almost since the beginning.
"Apart from a couple of seasons when I was having my daughters, I've only missed three or four games."
The club president expects to play on for at least five years.
"Goalkeeper probably does make it a bit easier as you don't have to run around as much," she laughed.
Meanwhile, City Hall's "green spine" plan for central Geelong has alarmed at least one eagle-eyed motorist, who identified potential traffic chaos in a concept image published in the 20 July Indy.
The image depicted greenery separating the now-linked thoroughfares of Mercer and Gheringhap Sts, which would force traffic onto alternative routes through the increasingly busy city.
City Hall was eager to allay any fears of gridlock when Double Take enquired this week.
The picturesque concept plan was naught but an artist's impression, City Hall said, with the public sure to be consulted on the final shape of the green spine.
Hopefully the consultation differs from the model used for the libraries closure fiasco earlier this year. Namely, that the public has its say before the decision, not the other way around.
Could be an issue to remain under the Indy's own eagle eye!