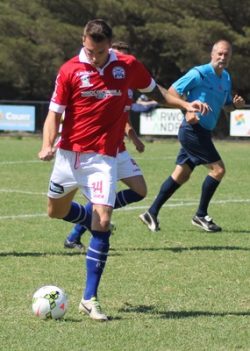 By Josip Zilic
With their fate sealed in relegation back to NPL2 in 2018, the North Geelong Warriors can turn their attention to getting the most out of the remaining two matches, starting with their last home match this Saturday afternoon against Melbourne Knights.
The Knights will face the unenviable task of the playoff with 12th spot secured. To date, the playoff position in NPL1 has been a poisoned chalice for teams landing in that position, and hopefully for their sake they can turn the tables on that record.
Both sides this week will come into the round fresh with last weekend being a bye round.
The Warriors last hit out was a 1-1 draw away to fellow relegated side St Albans Saints.
In that contest, the culmination of what the Warriors experienced throughout 2017 came to the fore. Long periods of control, a multitude of chances and other than Matt Thorne's opener via a well-taken header in the 12th minute, no other reward for their earnest effort.
As the match entered its final stages, the Warriors suffered an all-too-familiar situation, seemingly in control of the proceedings only to suffer a momentary lapse in concentration.
In the 75th minute, skipper Matt Townley was adjudged to have fouled Roddy Covarrubias in the box, providing a penalty for the Saints. Despite Marko Stevanja's best effort, he couldn't get enough purchase on the ball to stop the ensuing Ryan McGuffie penalty from levelling the score.
Undoubtedly for coach Micky Colina and his charges, they would be looking to close out 2017 on a high, and give their fans a glimpse of what 2018 may behold. Additionally, it is an opportunity for fringe players to be given the open playbook to put their wares on show.