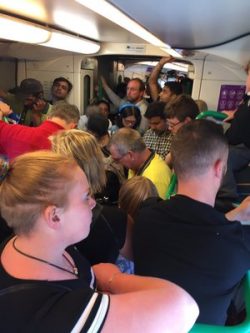 By Luke Voogt
Overcrowding plagued almost three quarters of peak hour trains on the Geelong line in March, according this week's damning Auditor-General report.
The report also showed 52.8 per cent of peak hour trains exceeded maximum capacity between July 2016 and March 2017.
Public Transport Users Association Geelong convener Paul Westcott described overcrowding as a huge problem.
"There are trains in the morning which are already full before they leave Geelong and North Geelong," he said.
Mr Westcott called on V/Line to increase train lengths to up to six carriages to add seats.
"V/Line in their wisdom have standardised a three-carriage length," he said.
"They've obviously decided for their own convenience they will keep all trains the same. It might be OK for them but it's not for the passengers."
Patronage increased by 80 per cent on the Geelong line since the opening of the Regional Rail Link, and Tarneit and Wyndham Vale stations in June 2015.
"It's a victim of its own success in a way but something needs to be done," Mr Westcott said.
Mr Westcott said V/line was running 17 peak hour services on the link, out of a capacity of 18.
The State Government budgeted for 39 new carriages, the Auditor General noted his report. But "disappointingly" the report had not recommended longer trains, Mr Westcott said.
Plans to duplicate the line between South Geelong and Waurn Ponds remained vague, thanks to Labor and Liberal "politicking", he said.
The Federal Government budgetted $100 million for the duplication this year and has called on the Victorian Government to provide a business plan for the project.
But the State budgeted $110m for the project, which it said the Commonwealth owed through the Asset Recycling Initiative.
Greens transport spokesperson Samantha Dunn said mismanagement by the current and previous State Governments would see more passengers standing in future.
"Labor and Liberal have neglected V/line and failed to plan for growth."
Ms Dunn said the Greens had based their policy on a 2011 V/Line blueprint for Victorian railways to make the line a "serious commuter service".
The plan included electrifying the Geelong line, she said. But she welcomed recent commitments to the duplication.
"It's good to see parts of this this plan finally being operationalised," she said.