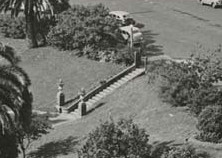 Nature and heritage have clashed in central Geelong, with the latter emerging the loser.
The vanquished in question is an historic but long-buried marble staircase leading down from Gheringhap St into Johnstone Park.
The grand flight of 20 steps was buried sometime back in the '60s, when a pair of accompanying Medici urns were also lost.
The Indy reported two years ago that heritage buffs were keen to have the stairs exhumed and restored as part of works underway now to jazz up Johnstone Park.
But why has nothing happened since?
Apparently the obstacle is a towering nearby gum tree, whose roots have grown across the subterranean stairway.
Double Take understands that restoring the stairs would mean killing the tree, so the stairway is set to stay underground.
Meanwhile next door, City Hall planning boss Peter Bettess was showered in praise, from colleagues at least, after announcing his resignation last week.
Over seven years Peter had shown "outstanding leadership", said CEO Kelvin Spiller, noting his underling's "impressive achievements" and "sound professional advice".
Administrator Kathy Alexander chimed in saying Peter's performance in Victoria's third busiest municipal planning environment "speaks for itself".
How very commendable. But there was a time when his work "spoke for itself" in somewhat more colourful language.
Those were the days of the late '80s when, as a so-called 'mature-aged' university student, Peter submitted a humanities assignment with the evocative title Don't Fart on Art.
Let's just say it went down like the title's verb in a crowded tutorial.
The lecturer thrust the assignment straight back, demanding a revised title on the threat that marking would be otherwise withheld. Peter duly complied.
A memorable achievement by Peter, certainly, but perhaps falling short of Kelvin Spiller's criteria for "impressive"!