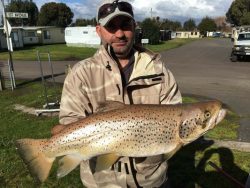 On the Bite, by Chris Pitman
Wild winds sent anglers seeking shelter last week.
Freshwater destinations offered some limited relief, with Stony Creek Reservoir, just outside Anakie, producing brown trout to just on 1kg along with a few redfin. Spoon-type lures and longer casts worked well from the main rock wall, along with soft plastics allowed to sink to the bottom.
The crater lakes of the western district were a reliable option for Chinook salmon and trout.
Trelly's Geelong's Peri Stavropoulos took a run down to Lake Bullen Merri first thing Sunday morning. Trolling slowly, Peri had no trouble in boating Chinook salmon to 1.5kg on a Tilsan Brown Trout minnow lure.
Other anglers at Bullen Merri also found the Chinook salmon willing to take a lightly weighted pilchard fillet.
Across the road at Lake Purrumbete, Tim Beusmans put in a few hours trying to tempt a brown trout. He ended up boating a brown just over 4.5kg on light line.
Saltwater and anglers were limited due to the trying conditions, although casting squid jigs out from St Leonard's Pier accounted for some reasonable squid in the evenings.
The surf fishing was fantastic, with this season producing large numbers of not just Australian salmon but gummy sharks, too.
Jan Juc proved a safe bet for spinning up salmon. Pilchard-pattern lures around 25g worked well, with salmon over 2kg sometimes beached.
The key to banking numbers of fish was timing trips for evenings lining up with rising tides.
After dark, gummies devoured fresh squid baits along with fresh fillets of salmon.
Huge amounts of salmon to 40cm snapped up soft plastics around Corio Bay's inner-harbour. Three-inch minnow Gulps worked well on 1/8oz jig heads.
The salmon seemed spread from the entrance to the harbour through to the grammar school lagoon and along Geelong's waterfront.
Back down the western district, estuary systems had plenty of black bream on the chew. Z-Man Motor Oil Grubz in the 2.5-inch size were a safe bet on schools of bream over 40cm.
Anglers stalking the estuaries should try taking advantage of a depth sounder so they can cast to marked schools.
Next week, if the wind backs off, it should offer chances to try for King George whiting out from St Leonards, while walking the surf beaches on a rising tide with lures should produce a few salmon. Freshwater anglers might like to head west to Lake Purrumbete for a trophy trout, with August often the best month to snag a big brown.