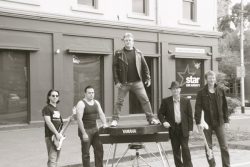 By Justin Flynn
Who doesn't love belting out Keh Sanh, Flame Trees or Choir Girl during a night out with friends?
The classic Cold Chisel hits are ingrained into the Australian music psyche.
Cover band Gold Chisel has been doing the rounds for 17 1/2 years, and is still in high demand, being described as the closest thing to the real Cold Chisel in the country.
Lead singer Andy Lutze has been portraying the legendary Jimmy Barnes for years, and still loves what he does.
"I was getting told I sounded like Jimmy Barnes long before people knew who he was even though they knew who Cold Chisel were," he said.
"I never really wanted to do Jimmy Barnes' stuff, I just wanted to establish an ID of my own. My brother said 'bite the bullet and just do a Cold Chisel show' and it went from there. Initially when we put it together, we said we'll have a lot of fun and maybe get a couple of years out of it, but we're still packing out places everywhere."
The band has just returned from a packed out tour of the Northern Territory and will be at Geelong RSL on 12 August.
"We haven't played at the RSL before, and it's been a few years since we've been to Geelong, so we're looking forward to it – it's a great place," Lutze said.
Lutze said the band thrived on playing gigs in rural Australia.
"We've seen just about every part of Australia that there is to see, and we get paid for it," he said.
"When we were in the NT, the last show we had was in Palmerston, and everyone just said thank you for coming this far and taking the time to come up here. That's what it's all about. We've got five guys in the band now who are all on the same page, and love doing what we do. We wanted to get out and take it to every corner of this great country. Everyone deserves to hear good music in their local pub or club."
The band has been given the tick of approval from Cold Chisel.
"Don Walker said: 'it's all good, but just don't make more money than we do'," Lutze said.
"I know tribute bands can sound a bit cheesy, but we're serious musicians who love playing music."
Gold Chisel's 'Keeping the Legend Alive' show will be at Geelong RSL on 12 August. Meal and show at 6pm, show only 8pm. For more info and tickets, go to www.trybooking.com/book/event?eid=288766.