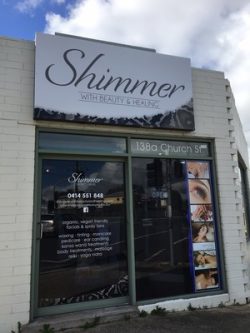 The world of beauty therapy is dominated by the three Rs – relaxation, rejuvenation and restoration.
Lesley Windsor, the owner of new salon Shimmer with Beauty and Healing, promises that she will deliver all three to her clients.
Lesley took over the salon at the corner of Shannon Avenue and Church Street, Hamlyn Heights, in August last year and offers her clients the very latest developments in facials, massages and other healing therapies.
With more than 20 years' experience in the beauty industry, Lesley has also added further qualifications as a fully qualified Reiki therapist and she is also a fully accredited yoga teacher.
Lesley offers completely chemical-free, ethical treatments which will bring a smile of the faces of all vegans and animal lovers.
As well as organic and vegan facials and spray tans, clients can also book in for the ultimate in facial rejuvenation , macro exfoliation.
"I want people to be reassured that when they come into my salon they will be offered only best practice in my techniques and methods, but it will also be ethical practice, that is, no nasty chemicals or animal cruelty," Lesley says.
"I am always being told by clients how relaxing the salon feels when they first walk in and I want it to have that warm and inviting feeling, just like an intimate boutique.
"I don't want people to feel they are part of some big production line."
One of Lesley's most intriguing therapies has its origins in India and uses a specially made bronze wand to fully re-energise and balance the body.
Lesley is available on Wednesdays, Thursdays and Fridays and she can be contacted on 0414 551 848 to make appointments for other times.
And Lesley does promise that all her clients do leave "shimmering"!