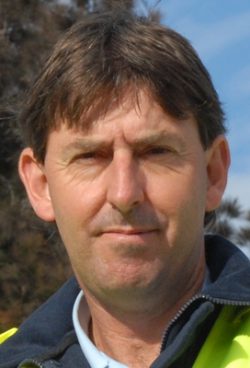 Serial commentator Darryn Lyons is stepping up his war against the man who sacked him as mayor of Geelong.
Along with his regular print platform for lambasting state Labor, Daz is also fond of using his massive social media following for digs at Premier Daniel Andrews in particular.
This week was no exception with the state's leader walking straight into a hard right Twitter reply from Lyons in the blue corner.
"Pets like these belong in a loving home, and we'll always support the people who work so hard to achieve just that," the Premier tweeted with a pug-packed video about animal welfare grants.
The lame bid for PR points didn't go unnoticed in the Lyons lair.
"Meet Dan the 'pug' he needs a new home out of politics and destroying people's lives! pls #NorthKorea give him a home!," Daz responded.
Ouch. More bite than tweet!
Also making an impact on local social media this week was Geelong's Andrew Brittain (pictured) with his Policeman of the Year award.
Words of congratulations flowed thick and fast on the local constabulary's Facebook page when it announced the Leading Senior Constable's win for his work on a Kokoda youth program.
"Good work", "top job", "well deserved" and many other such sentiments were posted by well-wishers below Andrew's story.
But among the generous words was a cheekily back-handed compliment.
"I worked with Andrew in the '80s at Rays Disposals," posted Steve A Corbett, "he's a better cop than a retail assistant! Lol. Congratulations".
Sounds like Andrew made the right career change.