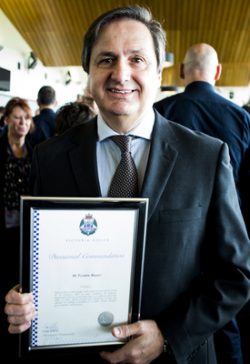 By Luke Voogt
Jamie Rumoz never felt he "was in danger" when a raving jobseeker sledgehammered through the front security door of his workplace earlier this year.
Mr Rumoz won a police commendation on Wednesday for calming the man as his colleagues fled to safety on 9 February.
"I really didn't have much time to think about it," he said.
"I just tried to keep him in the room long enough so he wouldn't go anywhere else and, hopefully, the police would come and apprehend him."
Mr Rumoz was working in the front office of a central Geelong job agency when a sledgehammer-wielding man burst through the front security door.
"Once he hit the door the first time everybody started running out," he said.
"(With) The second hit the door flung open and I was standing right in front of him."
Mr Rumoz remained in the office to delay the man until police arrived.
"Because my desk was closest to the door I spoke to him," he said.
"He just said he wanted an effing job – he really wasn't making too much sense."
Mr Rumoz edged toward the exit in case the man decided to turn on him.
"I asked him to sit down and stay with me… I wasn't sure who was next door or who was upstairs," he said.
The man declined a seat, instead smashing a desk with the sledgehammer, Mr Rumoz said.
"I just said to him not to do that because they were going to replace it."
Finally, the man left the office and police apprehended him outside.
"To me it seemed like an hour but it was only five minutes," he said.
The emotion of the incident only hit Mr Rumoz when he gave his statement to police.
"I don't think I did anything heroic," he said.
"The police are the real heroes – they're the ones that have to go out and deal with these situations.
Western Region Commander Paul Naylor presented four regional commendations, nine divisional commendations and another civilian commendation at a ceremony at Simonds Stadium Wednesday.