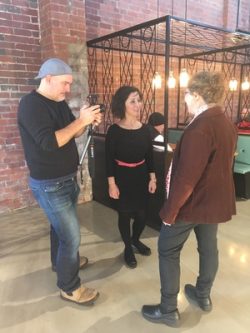 Filming began on Geelong-based documentary Hubcaps to Creative Hubs on Wednesday following local crowd-funding efforts.
Film group Creative Geelong collaborated with the University of Melbourne and Deakin University to create the three-part series.
"We were aiming for $15,000 to be raised to make these three short films but ended up with $20,000," said Creative Geelong president Jennifer Cromarty.
"The Geelong community was incredibly enthusiastic and supportive of the project."
Television producer Nick Searle volunteered to create the series which tells the story of "creative transformations" at Geelong's former industrial sites.
Mr Searle, who has worked on Grand Designs Australia, The Recruit and Master Chef, began filming interviews at Federal Woollen Mills in North Geelong on Wednesday.
The series will also visit the former paper mills in Fyansford and the former woollen and worsted mills in Newtown.
Ms Cromarty said the films would encourage further investment in the local economy and provide broadcast-quality marketing material.
"Creative industries across the G21 region account for 8 per cent of all employment with over 7800 jobs," Ms Cromarty said.
"The role of creative industries in our region is helping shape our clever and creative future."
Greater Geelong and a number of local businesses and groups contributed to the $20,000 total.