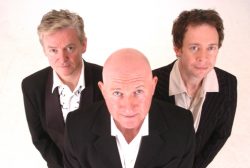 By Luke Voogt
Cover trio the Captain Spalding Band will rock the Sphinx in a one-off show on Saturday.
The band's lead singer Tom Spalding grew up in a Glasgow housing estate, which its residents ironically nicknamed 'Chateau de Lait'.
"I picked the guitar up when I was about 17 and 18," he said.
He shared a love of The Beatles with his next door neighbour, who encouraged him to play in the Glasgow pub scene.
Spalding cut his teeth playing at The Admiral, which was featuring performers like comedian Billy Connolly at the time.
He travelled to Spain in 1974 to join his friends in a band, until in 1977 when he got a call other British expats who owned a soccer club in Australia.
"I brought my football boots and my guitar… and I'm still here," he said.
Spalding found work on cruise ships, and in 1981 formed a cover band, which has been going ever since.
The Captain Spalding Band's latest line-up includes the skills of Dave Campbell and Ken Murdoch.
The band has played across Australia, New Zealand and Asia, and performed at corporate gigs for Mercedes, NAB, Hawthorn Football Club and more.
The band plays a mixture of sing-along cover classics Khe Sahn and Eagle Rock, along with newer hits like Viva la Viva, Sex on Fire and Wake Me Up (both Avicii and Wham versions).
"We try to get a really good mix of some old standards and some new stuff," Spalding said. "It's not really rocket science."
The band will return to the Sphinx for first time the band had been to Geelong in "four or five years", Spalding said.