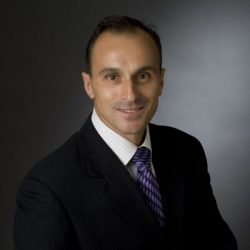 Another member of Geelong's sacked council will seek re-election in October.
Eddy Kontelj announced his stand to the Geelong Indy this week, defying opposition to members of the former council returning to City Hall.
Mr Kontelj said he would run for one of three councillor positions in Brownbill Ward, covering central Geelong and suburbs from Newcomb to Newtown and Henre Hill.
"I am an extremely active and driven individual who is invested in Geelong," he said.
Mr Kontelj, managing director of Caterpillar dealer William Adams, citied his six-year stint on the previous two councils along with his world records for static cycling and two months working in Antarctica around the end of 2016.
"If elected it is this type of commitment, energy, drive and courage that I intend to bring to the council."
Other members of the former council to have declared they will stand for re-election are Tony Ansett, John Irvine, Peter Murrihy and Ron Nelson.
More former council colleagues could join them, including two-time mayor Bruce Harwood who this week declined to rule out another run.
Kylie Fisher and the mayor of the sacked council, Darryn Lyons, remain the only two of the 13 councillors to publicly rule out standing again.
The government sacked the 13 councillors, including Mr Lyons, in April last year, citing an alleged culture of bullying.
The Indy reported in January that a year-long investigation had confirmed four bullying incidents at City Hall over the past 20 years, leading to the departure of "several" staff.
Three government-appointed administrators – two from Melbourne – have acted as Geelong's councillors for the past year.
The former councillors face opposition to any bids for re-election, with Victorian upper house MP Simon Ramsay wanting a new-look council in October.
"My hope is that we will get a good field of fresh faces to stand for seats on the new council; candidates who have at heart the best interests of the community they want to represent rather than the self-interest that in the past had plagued our council for many years," Mr Ramsay said last month.
Candidates will stand in a restructured council, with councillor numbers reduced to 11, including a mayor, and wards cut from 12 to four.
The Andrews Government has also axed Geelong's public vote for mayor, handing the decision back to councillors.
The councillors will choose a mayor and deputy to serve the first two years of the four-year term before deciding again at the term's halfway point.