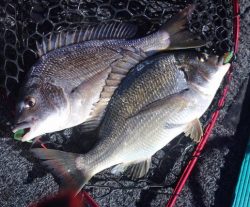 On the Bite, by Chris Pitman
Anglers fishing local beaches over the past week caught Australian salmon and some much larger species.
North winds were favourable for casting 25g to 40g metal lures or bluebait on the run-in tides, with fish over 2kg often the result.
Sunrise or sunset were peak times, although the salmon were catchable all day.
Mulloway became a more common catch from the beaches, with anglers using fresh squid achieving the best results. Gummy sharks to 1m were also taken from the surf, particularly between Breamlea and Torquay.
Queenscliff anglers fishing the deeper, fast-following tidal waters boated outstanding gummies over 15kg, while the nearby harbour held supplies of fresh squid for bait.
The harbour also produced silver trevally on slack tide for anglers with soft plastics.
St Leonards still held whiting, which were hard to tempt at times. Drifting for squid was more successful, along with heading out to the deeper water and bouncing baits along the bottom for flathead.
Large schools of salmon popped up off Clifton Springs along the Curlewis Bank. Casting small 10g metal lures or 10cm soft plastics in minnow patterns worked well.
Whiting were caught nearby in 5m to 6m, including fish of 40cm.
Corio Bay's inner-harbour provided the odd report of winter snapper after some long, cold nights.
Garfish and pinkie snapper kept land- based anglers entertained from Limeburner's Point to St Helens.
Michael Moore and Trelly's Geelong's Adam Van Der Lugt took a trip down to the Aire River with soft plastics on Sunday, crossing paths with some well-conditioned bream. The pair noted that the river was very high.
Freshwater fishos still found Wurdee Boluc Reservoir worth the effort for brown trout to 2kg. Fishing around the weed banks increased the chances of success.
Lake Purrumbete was reliable for brown and rainbow trout, along with the odd Chinook salmon. Trolling Tassie Devils along the east bank worked well.
Plenty of redfin were also taken at Purrumbete by anglers sounding up schools then dropping soft plastics.
Lake Bullen Merri was a great option for land-based anglers, with Powerbait accounting for numerous rainbow trout and Chinook salmon.
Down the Hamilton Highway, Deep Lake kept giving up football-shaped rainbow trout for anglers trolling or bait fishing.
The remainder of school holidays should provide opportunities to take kids fishing with Powerbait at Highton's St Augustines Water Hole. Saltwater anglers should try for gummies, around in good numbers from St Leonards to Queenscliff.