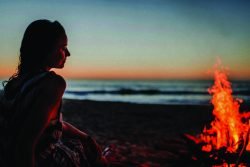 Writers, cartoonists, dancers and choirs will gather in the winter elements at Apollo Bay for the first ever WinterWild festival next month.
The 18-plus, after-dark festival would not be for the faint-hearted, director Roderick Poole said.
"It's very much aimed at adventurous spirits ready to take on a challenge; to embrace the harsh environment and celebrate the beauty of the elements at their extremes."
Apollo Bay is "less Summer Bay, more Deadwood", he said.
"If you're going to have a festival in Apollo Bay in winter, there is no point hiding from the elements. We like it dark and wild, a little bit dirty.
"We're not afraid to face the wind, the rain, the big waves and the mud."
Week one starts Saturday with musicians Mick Turner and Sand Pebbles, and the screening of cult 90s surf film Litmus with a soundtrack performance by director Andrew Kidman.
The following week, Tek Tek Ensemble and Cut Opera will perform alongside Japanese dancer Yumi Umiumare.
Cartoonist Michael Leunig will join writers Clementine Ford, Arnold Zable and Emilie Zoey Baker during week three in a celebration of ideas.
The final week concludes in a 100-singer choir, live music and the burning of the festival sculpture.
The 2015 Christmas Day fires closed the Great Ocean Road and brought the economies of its coastal communities to a halt.
But they will rise from the ashes at WinterWild in a festival that showcases the best Apollo Bay has to offer.
Each Saturday night of the festival will kick off around a large bonfire on the beach contained within room-sized, artist-built braziers.
The night's main festivities then move into the Mechanics Hall, but the town will buzz around it with roving performers, outdoor film projections, bands in pubs and jams around the bonfire.