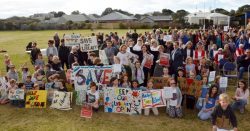 By Luke Voogt
Council administrators must vote next week to keep three libraries permanently open after they had been earmarked for closure, according to campaigners trying to save them.
Former councillor Ron Nelson issued the call after City Hall officers recommended that the Highton, Chilwell and Barwon Heads libraries should remain open until 2018.
The three administrators will vote on the recommendation next Tuesday.
Mr Nelson doubted the administrators would heed the call to save the libraries, saying they had a tendency to defer "hard decisions".
"I think they'll just pass it on to the next council but at least that would show they've finally listened to the community," he said.
The likelihood of the officers' recommendation being followed "really highlights the fact that (the majority) of the administrators are from Melbourne", Mr Nelson said.
"They don't understand the needs of Geelong."
The council should instead consider selling disused buildings to improve its bottom line rather than closing libraries, Mr Nelson said.
He planned to give the administrators a budget proposal to renovate Highton Library.
"I feel that Highton Library, among others, is under demolition by neglect."
Library campaigner Lynne Dowling echoed calls for the administrators to keep the libraries open but welcomed the officers' recommendation.
"The 6000 signatures and the hundreds of letters and emails have made a difference," she said.
"There has been fair more opposition to these closures than they ever could have imagined.
"They've been forced to listen because of ordinary people spending a lot of time and energy opposing what they see as an undemocratic and unjust decision."
Ms Dowling vowed to continue the campaign until the administrators voted on the recommendation.
"I won't believe it until I see a motion passed."
Highton's Jacqui Bennett urged her fellow campaigners to attend the meeting at City Hall.
"First we've got to make sure the administrators agree to that proposal."
Locals should use the libraries as much as possible if the administrators granted the "reprieve" she said.
"We might have to all work together again next year to make sure these valuable resources aren't closed."
Ms Bennett welcomed the recommendation for the next council to decide the fate of Highton, Newtown and Barwon Head libraries.
"It should have been a decision by a council elected by the people that was a voice for the people too."
Following a passionate community campaign, a council report recommended the three libraries remain open and for council officers to monitor their operations.
The report recommended the officers to present the findings to councillors in March 2018.
Geelong Regional Library Corporation recommended closing the libraries earlier this year due to them rating lowest in measures such as visits per hour, according to a City Hall statement.