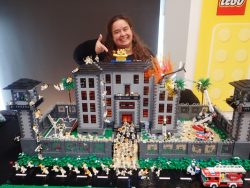 Geelong's push to position itself as a centre of scientific endeavour is developing a highly specific niche, or perhaps that should be 'nest'.
Yes, this week has brought yet another local breakthrough on how climate change affects migratory birds.
According to the latest from Deakin University, ruddy turnstones are arriving at their Arctic breeding grounds from Australia "an entire day earlier than in previous years".
The "monumental shift" was likely a response to climate change as the birds adapted to "rapidly advancing seasons" in the Artic, explained researcher Dr Meijuan Zhao, at the uni's Waurn Ponds campus.
The ruddy turnstone revelation is the latest in a series of climate-change-versus-bird research at Deakin, which has also delivered insights on shrinkage in the red knot species, beak growth among Australian parrots, the changing feeding habits of gannets, and the heat-warning call of zebra finch to their incubating young.
So it's clear: at Deakin University, climate change research really is for the birds!
Meanwhile, at the extreme other end of the research spectrum, another Deakin boffin thinks he might know why Vincent van Gogh famously cut off his own ear.
The self-disfigurement of the great Dutch artist was probably due to mental health issues, explained Professor Michael Berk, noting that Van Gogh was "retrospectively diagnosed" with bipolar disorder, psychosis and possibly even autism.
"When he cut off his ear it was most likely in psychotic episode but all we can really do is speculate because there is little evidence on his state of mind," Prof Berk said, before cautioning against use of the "crazy artist" stereotype.
Readers might remember that deceased underworld heavy Mark 'Chopper' Read also displayed some artistic talent later in life – and also cut off both his ears.
But no one said Chopper was crazy – out loud, at least!
LEGO usually keeps kids entertained indoors but, thanks to a Queenscliff event, its influence will spread much further afield than just untidy bedrooms.
National and international Rotary projects will benefit from Queenscliff Bricks, organisers said, after this year's LEGO celebration attracted 1800 patrons.
The event raised $10,000 for Rotary, which will go a long way toward the service organisations good work among needy communities.
Displays, competitions and a "master class" with LEGO builder "extraordinaire" Travis Matheson were all part of the local Rotary club's blocky fun over the long weekend.
Which leaves only one question: who picked up all the pieces?
And finally, what was suspended Cats spearhead Tom Hawkins doing in the Bush Inn on Thursday afternoon?
Surely he still had training later the same day, so a couple of warm-up lagers should have been well and truly off the agenda. Or was he using the week off for a little uncharacteristic no good?
Double Take's spies noted the big Cat was pushing a pram – and that the Bush Inn is now under the part-ownership of Hawkins' former teammate, Corey Enright.
On the weight of evidence, Double Take rules that the Bush Inn incident was just a case of catch-up rather than caught-out.
Case dismissed!