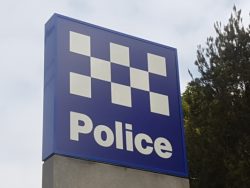 By Luke Voogt
Waurn Ponds Police Station has extended its opening hours while maintaining extra patrols on the road, according to Geelong Superintendent Craig Gillard.
Front-counter services will be available from 6am to 10pm daily from 1 July after a controversial trial of reduced hours from 10am to 6pm.
The reduced hours had freed up 200 hours of two-person police patrols during the trial.
Supt Gillard said police had maintained the patrols while increasing front desk hours thanks to a "staff restructure".
"It's a win-win, we've extended our opening hours and we haven't reduced our patrol capacity."
The reinstated the front desk hours would "further improve service delivery for the Waurn Ponds community", Geelong Acting Inspector John Clark said.
But the station needed more officers, said Grovedale resident Alan Rogers.
"(The opening hours are) not going to make any difference that I can see."
Mr Rogers said police took four hours to respond when he called triple zero at 6.47pm on 10 January.
An apparently drug-affected man entered Mr Rogers' backyard and began throwing objects at his house roof before threatening his wife with shovel, he said.
"He had to be on something."
The man had left before police arrived at 10.45pm, Mr Rogers said.
"You ring triple zero for police assistance and they show up four hours later – it's a joke.
"Even when they do catch these bloody clowns nothing happens to them."
Waurn Ponds' Val Awramenko welcomed the extended hours but said police "were not targeting the obvious problems".
Hoons had been tearing up gravel near Merandez Rd for the past few years, Mr Awramenko said.
"We have that continuous roar happening every couple of nights.
"Nail those buggers, get their cars and crush the damn things. Once you nail a few them of them it will stop."
The reinstated hours came as Crime Statistics Agency Victoria released its latest statistics showing increases in assault, and sexual and drug offences in Geelong.
Assaults rose 17.8 per cent in the year to March while sex and drug offences were up 36.2 and 31.8 per cent respectively.
Overall crime increased 2.1 per cent compared to 18 per cent in the previous year to March.
Crime in the Surf Coast fell by 19.9 per cent and "plateaued", which Supt Gillard described as a "tremendous result".
"Police in the Geelong and Surf Coast area have been working tirelessly over the last 12 months to reduce the volume of crime and to address the harm caused by crime," he said.
"Our arrest rate has risen by 12 per cent which shows your police are incredibly active in targeting those committing crime."
Burglary and theft fell 2.5 and 3.6 per cent following significant rises the previous year.