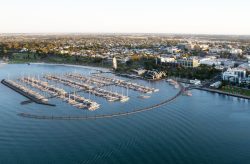 Additional state funding could put wind in the sails of a $31 million "safe harbour" project for Geelong's waterfront, according to the city's leading yachtie.
Royal Geelong Yacht Club was "confident" of securing $3.5 million for the project from the Victorian Government's Shared Facilities Fund, commodore Chris Williams told members in an email this week.
But the club was still waiting for Federal Government to approve an application of $9 million to begin work on the first stage of the project, Mr Williams said.
The club and Geelong's council have committed $3 million each toward the $19 million first stage, which also has a $4 million commitment from State Government. The federal application seeks the remaining $9 million.
The first stage would construct a 280-metre curved 'wave attenuator' to protect vessels berthed at the yacht club.
A $12 million second stage of works, including redevelopment of the club site, would draw all funding from berthing fees.
State Sport Minister John Eren called the project waterfront Geelong's "biggest redevelopment in 20 years" when he announced the plans in 2015.
Mr Williams said an information session on Tuesday would bring members up to date on the safe harbour's progress.
The club's bid for additional state money had progressed to "the next phase of the application process", he said.
"While the outcome of the current Federal Government funding application for the (project) is not yet known we are confident that our application for $3.5 million to the State Government's Shared Facilities Fund will be successful," he told members.
"The Shared Facilities Fund application is based on combining the RGYC Off The Beach facility and the Victorian Sailing School, which is a component of the first stage of the Geelong Waterfront Safe Harbour Precinct project.
"As part of the process, we have now been requested by the State Government to draft a Community Joint Use Agreement with Newcomb Secondary College in relation to the sailing school and off-the-beach complex."
The club needed "member input" on the shared-use facilities to help develop draft concept plans, Mr Williams said.
The additional state money would allow the club to start work on stage one's wave attenuator, new floating berths and the sailing school/off-the-beach complex, he said.