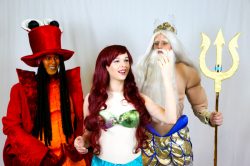 By Luke Voogt
Highton's Rebecca Harland will star as her favourite Disney princess when Geelong's young acting talent takes to the stage for The Little Mermaid.
"Ariel was always my favourite," the 16-year-old told the Indy Monday.
"I used to have a little mermaid costume that I'd wear around."
The lead role was the first for the young actress, who joined the Geelong Society of Operatic and Dramatic Arts in 2012.
"I always loved dancing and I did singing lessons," she said.
"I had watched theatre but had never done it – when I did, I fell in love with it.
"It's amazing actually, I worked really hard to get it.
"It's very different from just being in the ensemble – now I'm actually a character with a name and I'm the only one on stage some of the time."
She was thrilled to sing classics like Part Of Your World, as Ariel.
"They were my favourite songs," she said. "The play is very true to Disney."
Rebecca dreamed of being a Broadway star and said she would love to play Christine from Phantom of the Opera
"Ariel was my dream role, but now that I'm playing it … "
Manifold Heights' Cooper Stevens joins Rebecca as the Sebastian the calypso crab. He adopted the singing shellfish's Caribbean accent for the play.
"You get a couple of key words and then you can just go from there," Cooper said.
"It's so much fun – when I play Sebastian I get to be as loud and insane as I am at home."
Newtown's Ruby Buchanan plays the malevolent Ursula.
"Ursula is a very funny character and the whole show is amazing," the 15-year-old said.
The trio visited the Indy offices with friend Maggie Evans, who plays the less well-known roles of 'Maid Four' and Myrtle the Turtle.
"I've got a really great costume," Maggie said enthusiastically.
"I had to remember my one line. You have to make up your own back story."
Maggie joins the 60-plus cast on stage in a kaleidoscope of colourful crustaceans for its major number, the catchy Under the Sea.
"It's Myrtle's star feature," Cooper joked.
The Little Mermaid tells the story of the rebellious Ariel, who dreams of life above her underwater kingdom and develops a fascination with humans.
She defies her father King Triton to make a deal with the witch Ursula, to walk on dry land beside her beloved Prince Eric.
Director Emily Donoghue leads a cast comprised entirely of local performers aged 11-17, alongside vocal director Hannah Petrie Allbutt and choreographers Ariane Gavin and Damian Caruso.
The Little Mermaid runs 24 and 30 June, and 1 July at Geelong Performing Arts Centre.