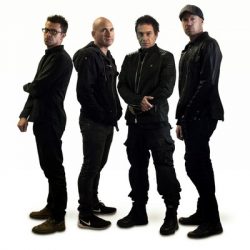 By Luke Voogt
The newest line-up of pop rock group 1927 is more than a "karaoke version" of the original, says Queensland bass player Simon Shapiro.
"We're playing all hits but we're still evolving and doing new music."
The band's only remaining original member, Eric Weideman, reformed the band in 2009.
"The band had not been together for a long time," Shapiro said Monday. "Everyone got along really well and the audiences were still showing up so we kept going."
Originally, they "felt pressure to pay homage to the original band", Shapiro said.
"We all just felt like we were supporting Eric doing his thing.
"As the time wears on, you put your own imprint onto it as a musician. It becomes a whole new animal."
Shapiro had a solo career before joining the band, playing both piano and guitar.
"And I still do my own things as a singer-songwriter."
He worked as a musician and backing singer for stars like Belinda Carlilse, Bananarama and Daryl Braithwaite.
"I'm lucky to have been able to work with people like that," he said.
Shapiro has played at sold-out gigs at festivals and theatres with the band.
"Those are really cool, but personally I really like a big pub where you can actually see who's in the front row, and you can lean over and high-five everybody," he said.
"Eric loves Melbourne crowds – he grew up there. We were there last night. We pretty much always have great gigs in Melbourne."
The band will play crowd favourites like That's When I Think of You and Compulsory Hero when it hits the Gateway Hotel next Friday (23 June).
"As soon as that piano starts for Compulsory Hero everyone just reacts to it because it's a very emotional song."
But the "best energy", he added, was when someone threw out a request one of the band's newer songs.