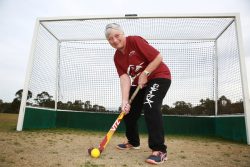 By Luke Voogt
Highton's Claire Barnes has been swamped with phone calls and texts since winning recognition for her service to local hockey.
The goal-keeping granny won an Order of Australia over the Queen's birthday long weekend.
"It's a huge honour," she said, ahead of running a junior training session. "It was really a delight to receive the notification."
"It's lovely when people who haven't played with the club for some time come and say congratulations – it really adds to the pleasure of the award."
Claire turns 63 Monday and has played for Newtown City Hockey Club for 40 years. She said the award was great publicity for the sport.
"It gives hockey as a whole a bit more promotion. If we can let people know hockey is alive and well in Newtown that would be great."
The Newtown City president has held a variety of positions for the club and Hockey Geelong.
She has umpired, coached and co-ordinated junior seasons, and saved goals since the mid-80s.
"(As a goal keeper) you can see the whole field and what happens," she said. "It's a bit of thrill when you actually stop a goal."
"I'm hoping to get to 700 games this season – I'm currently at 685 or thereabouts."
Claire has two daughters who play and she hopes to keep the family tradition going.
"My eldest daughter just had a baby, but he's only a few months old. So he's not quite ready to play yet."
Claire said anyone could play hockey. Until recently the club had a 71-year-old goal keeper, she said.
"You can keep playing for quite a long time."
She encouraged locals to give the sport a go.
"Next week is actually National Hockey Week, so it's actually quite an opportune time. We'd love to invite people to come out and try a game.