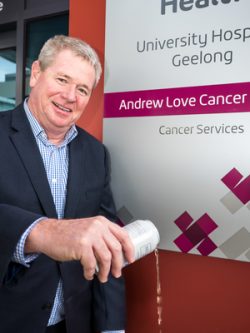 Mike Hirst has raised more than $50,000 to support Geelong cancer patients, and next month will give up booze again for the cause.
"The hardest year for me was when I took on the extra challenge of giving up my daily egg and bacon roll," he said.
"I missed that more than the beer, but it certainly helped the waistline. Not sure I could do that again though."
The Bendigo Bank managing director urged businesses to support Barwon Foundation's Dry July campaign, which has raised almost $500,000 for Andrew Love Cancer Centre.
Mr Hirst has been the top fund-raiser for Barwon Health's Dry July campaign since the beginning of the local campaign in 2012.
Each year, over 2400 people are diagnosed with cancer in the Geelong region.
The Barwon Foundation hoped to raise at least $60,000 for Andrew Love Cancer Centre this year.
The money will go towards men's support groups, carer support, edible garden beds, oncology massage, art and exercise therapy and more.
Mr Hirst said to visit www.dryjuly.com or phone 4215 8900 to sign up for the centre's Dry July fund-raiser and take a month off booze.
Participants can purchase golden tickets for $25 which will allow a night off from Dry July if they have a special event.