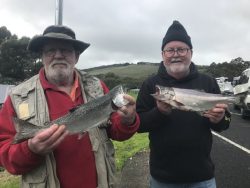 On the Bite, by Chris Pitman
Anglers made the most of the long weekend, getting stuck into a wide mix of species.
Whiting to more than 40cm were taken off St Leonards, with evenings and pippie baits working best. The town's pier produced squid on size-three artificial jigs cast around the lights at night.
Corio Bay remained the standout location, especially for sort plastics anglers chasing salmon and pinkies from Geelong's waterfront to the entrance of the grammar school lagoon.
Andrew Whitford spent another cold night out on the bay for a snapper of 4kg.
Garfish were taken at the rocks at Limeburners Point and St Helens on silverfish under a stick float.
Surf beaches continued producing Australian salmon, with Bancoora and 13th hot spots on the run in tide. The beaches also gave up gummy shark on fresh squid strips at night.
Many anglers travelled down the coast to chase school tuna on skirted lures off Portland and Port Fairy. Barrel-size fish were boated out from Apollo Bay.
The estuaries produced good numbers of bream and estuary perch on vibe-style lures and Z-Man Grubz.
Lake Purrumbete was a popular destination, with anglers snagging a variety of fish. Redfin were a prime target for anglers who rounded up schools to jig with soft plastics, while big brown trout snapped up lures trolled or cast along the east bank at first or last light.
Lake Bullen Merri was consistent for Chinook salmon. Trolling 13.5g Tassie Devils down deep with the aid of a downrigger worked best.
Stony Creek Reservoir was solid for trout and redfin. Brown trout just on 1kg took Paco spoons cast from the lake margins, while bait anglers also found browns along with the odd rainbow trout.
Next week could provide some worthwhile squid action in 3m to 4m off Clifton Springs, along with good fishing for salmon along local surf beaches on incoming tides. Cruising our coastline for big tuna could also be worthwhile, while freshwater anglers should head to Lake Bullen Merri for its consistent Chinook salmon.