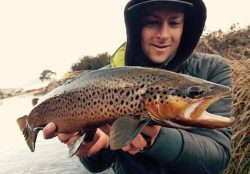 On the Bite, by Chris Pitman
Strong north winds over the past week were idea for fishing from the sand at local surf beaches.
Australian salmon to over 2kg snapped up bluebait and pilchards on paternoster rigs, while casting metal lures also produced results.
The beaches produced gummy shark on fresh squid and salmon strips after dark. Bancoora was a standout but nearby 13th Beach also produced results.
Trevally again took soft plastics in Queenscliff Harbour, where baits fished at the entrance accounted for some impressive whiting to 45cm.
Land-based anglers again fared well on squid at Queenscliff Pier on size-three artificial jigs.
Boaties who found a break in the weather to sneak out off St Leonards had little trouble bagging out on white around sunset.
Snapper were well and truly on the bite in Corio Bay's inner-harbour where anglers casting around structures in deep water found plenty of fish. Western Beach's yacht moorings were great places to spot fish on sounders.
Salmon to 35cm again popped up from time to time around the harbour.
Southern Bluefin tuna were in good numbers from Port Fairy to Portland. Trolling lures worked well in 55m to 65m.
Apollo Bay attracted a different calibre of tuna. Big barrels of 100kg were taken on the troll out from Cape Otway.
Freshwater fishing went nuts with the onset of wet, wintry weather.
Ever-reliable Stony Creek Reservoir was a solid producer of brown trout to 1kg on hard-body and spoon-type lures. The odd large redfin over 40cm was also banked.
Lake Purrumbete cemented its reputation for trophy trout. Rainbow and brown trout and Chinook salmon all over 3kg were taken by anglers trolling Tassie Devils and hard-body lures.
The lake's east bank at first light was certainly hard to beat, with downriggers handy to find the fish holding slightly deeper during the middle of the day. Casting among the weed beds out from the boat ramp also worked, while brook trout to 1kg began to appear.
Lake Bullen Merri was just as hot next door, with the average size of fish slightly down but plenty of rainbow trout and chinook salmon to 1.5kg available. Fishing Powe bait from the bank was an ideal approach, although anglers slow-trolling found good numbers around Potters Point.
I fished around Bright over the weekend, catching plenty of brown and rainbow trout averaging 800g on soft plastics such as Berkley T-Tails in black and gold.
Trelly's Fishing World Geelong's Adam Van Der Lugt took his annual pilgrimage up to the Eucumbene River. Fishing amid the snow, Adam landed numerous brown trout around 2kg on glow bugs and nymphs.
Next week should provide some good freshwater fishing, with Wurdee Boluc Reservoir a good local option for big brown trout.
Saltwater anglers could try the surf beaches for salmon or drive west to take on the mighty southern bluefin tuna.