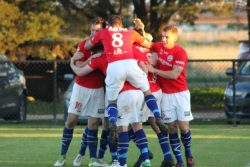 By Josip Zilic
No better way to get self-belief back into a squad than to do it with a last minute sealer in front of your faithful.
With a deserved 1-0 nil win under their belt last weekend against Pascoe Vale, North Geelong Warriors can head into their next challenge with a lift in mood.
Their challenge comes in the form of Bentleigh Greens, who many at North Geelong will say undeservedly walked away with three points in the reverse fixture when the Warriors led for much of the match and missed a penalty that ended up hurting deeply.
Bentleigh will host Friday night's match after a five-match period of two wins, two draws and a loss. With the likes of Matthew Thurtell prodding nine goals away this half of the season as well as ever-reliable Chris Oldfield in goals, the task ahead for the Warriors will be to create a battle and not allow the Greens to enjoy any free flowing football that they prefer.
Resilient and persistent was the best way to describe the performance of the Warriors in the win over Pascoe Vale, and it will take many more of those to climb up the ladder.
In the first half, the Warriors were unlucky to not receive a penalty for a handball call however the referee waved play on and in a see sawing affair neither side were able to create cutting edge chances.
Requiring a change to keep the side in the contest and requiring an injection of pace Micky Colina introduced Michael Anderson and Nicholas Jurcic.
It was the latter who paid the faith in the gaffer by charging down a switch in play to push forward, cutting in on the edge of the box to cross perfectly for the charging Andrew Doig who headed the ball under Andrew Pavlidis to seal the match in the 95th minute.
With the relief that they can do it, now it's a question of how many more can they win?