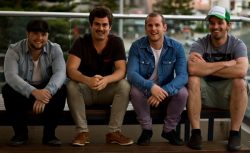 A big line-up of tribute acts will rock the Bellarine next month in celebration of World Cider Day.
"Since the whole day revolves around a tribute to the humble apple," said organiser Lyndsay Sharp, "it would seem only appropriate to keep the theme happening."
Victoria's veteran cover acts will pay tribute to The Seekers, Fleetwood Mac, Cat Stevens and Credence during the undercover winter celebration on 3 June.
Locally renowned cover band Test Pilot Molly will cap off the day with a mix of party rock classics.
World Cider Day begins at 11am at Flying Brick Cider in Wallington, with bands carrying on until 9pm.
Flying Brick will give cider making demonstrations throughout the day and will have a range of beverages on tap.
"New release ciders will be on the pour throughout the day, as will a couple of cheeky cocktails the Flying Brick team have been busily devising," Lyndsay said.
"Ever had a hot mulled cider? One of life's great delights – grab one and warm your soul."
Children under 12 will get in for free, and to keep them occupied the Brick has set up the kids' corner, complete face painting balloon artists and a rock-climbing wall.
Food on offer will include paella, local lamb sliders, cuttlefish, pork rotisseries, barbecue chorizo, fish and chips, apple pancakes and apple fairy floss.