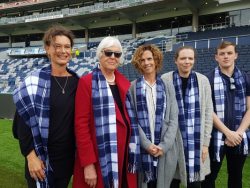 By Luke Voogt
Fans will get a unique look at Cats players at tonight's (Friday) game through a glass window into the warm-up rooms in Simonds Stadium's new stand.
Coach Chris Scott said the portal was "actually, in large part, driven by the players".
"We're embracing that, there's cameras in the rooms anyway.
"There are parts of the facility where we can get some privacy so it's not as if we'll be monkeys in the zoo all the time."
The families of Geelong's Brownlow winners joined the coach at the opening of the Charles Brownlow Stand yesterday.
Construction workers put the finishing touches to the $90 million stand ahead of tonight's blockbuster game, which will test the stadium's new 36,000-person capacity.
Kardinia Park Stadium Trust chair Steve Bracks said the ground was one of the best in the country following the stage four development.
"We now have a magnificent stadium which the entire Geelong community can be truly proud of."
Mr Bracks said Geelong's TAC, Worksafe and the NDIS headquarters would take advantage of the stadium's community facilities like the Sunrise rehabilitation.
Stage five of the redevelopment will bring the stadium's eventual capacity to 40,000.
Cats chief executive officer Brian Cook thanked the 1100 passionate Cats fans who donated to the development and Costa brothers who contributed $3m.