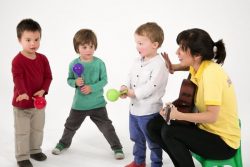 Mini Maestros loves music and knows that children love music too.
Australia's leading music education program has been teaching babies, toddlers and pre-schoolers for almost 30 years and is just as popular with adults as it is with children.
Kate Rice and Liz Davis, who brought Mini Maestros to Geelong back in 2014, feel privileged to be able to share their love of music with families across Geelong and the Bellarine.
The classes are a special time for parents and carers to have with their little ones as they learn and explore together. For many it is the highlight of their week.
The primary aim of Mini Maestros is to create self-reliant, confident and well-rounded learners.
Using music and movement to achieve this objective, children learn essential skills whilst having fun.
The classes offer a nurturing space to develop the whole child, celebrating their social, cognitive, physical and emotional breakthroughs.
Through their children, Kate and Liz have seen firsthand how Mini Maestros enhances all areas of development.
"Our classes offer so much more than just music; we have seen this happen with our own children and this makes us all the more passionate about bringing the program to others," they said.
Mini Maestros offers three week trials allowing families a flexible way to experience its program. Families are welcome to join the program at any stage of the term.
Further details from 0424 047 822 or mm.geelong@minimaestros.com.au.