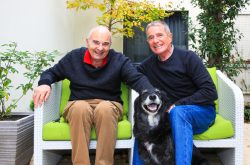 By Luke Voogt
After finding a job in aged care after Ford's Geelong plant closed, former engine builder Rod Carter has only one regret.
"I wish I'd started looking after the elderly years ago," he told the Indy.
"The job satisfaction you get looking after an old person who can't look after themselves is absolutely brilliant."
The 63-year-old worked at Ford for two decades. He was one of 551 workers who left the company when it shut its Victorian factories last year.
"You make a lot of really good friends," Rod said.
"It's sad Ford closed down but that's economics – the writing was on the wall for a long time."
Rod built V8 engines during his last three years at Ford. The company offered him a contract but he "just wasn't interested".
"I wanted to get out of there and get on with my life."
Geelong jobs advisor and former aged care manager Bob Hope suggested working with the elderly.
"He got to know a couple of the people (at Ford) fairly well, including myself, and thought I'd be good at it," Rod said.
He completed an aged care course last year and began working at Point Lonsdale's Arcare last month.
Rod described his messier tasks in graphic detail, admitting he was "terrified" the first time he helped an elderly lady shower.
"There's a very good chance you're going to get thrown up on but I'm professional and it's all part of the job."
The gratitude of the elderly, even when unable to speak, made the job more than worthwhile, Rod said.
"They might give you a squeeze of the hand or a little smile and you know you're doing right by them."
Rod encouraged other former workers to take "everything on offer from Ford and the government".
"If you want something you've got to after it – nobody's going to hand it to you," he said.