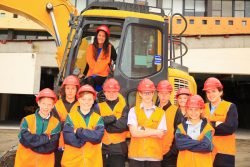 Workers finished demolitions this week for a new tech school to give students skills for the 21st century, according to the State Government.
Geelong MP Christine Couzens joined students at the Geelong Tech School site on Wednesday.
The $10 million school will give students skills "for the emerging industries of the future", she said.
From mid-2018 students from 21 local secondary schools will have access to the school's programs focusing on science, technology, engineering and maths.
The three-level building includes a design studio and audio-visual spaces.
The school will concentrate on industries which are predicted to experience strong economic and employment growth, according to the State Government.
Ms Couzens also visited students at Geelong High School to turn the sod of a new performing arts and music building.
The building will be part of a $20.5 million rebuild of the 950-student school, which is already underway, that includes a new Year 7 area, refurbishing and landscaping.
The Victorian Budget included $21.1 million to upgrade 15 schools across Geelong and the surrounding region.