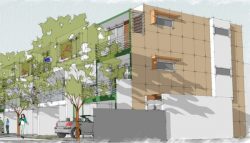 By Luke Voogt
The architect behind a planned 11-townhouse building in Geelong West will take his plans to the State's top planning tribunal after City Hall rejected them.
Tufan Chakir told The Indy last month he would take the proposal to Victorian Civil and Administrative Tribunal (VCAT) if City Hall rejected the plans.
"In the end, we will have to deal with VCAT for a rational approach," he said Monday.
City Hall planners rejected the proposal on its failure to meet nine standards or objectives, according to the agenda for a Development Hearings Panel.
"The proposal is too great a departure from the existing neighbourhood character," the agenda read.
But Mr Chakir said the planners were not interested in amending the design, despite hinting last month they would reject the proposal at the panel.
"I'm disappointed with the process. Had there been more robust discussion, then we may have looked at amending the design solution."
City planners were more interested in "trawling" through the design for flaws during the hearing on 4 May, he said.
"There were two different planners at two different levels – one senior and one junior – both rejecting the plans but for different reasons."
Mr Chakir said City Hall's main reason for rejecting the application, departure from neighbourhood character, was "subjective".
The planners stated the proposed building was "an imposing form in the streetscape due to lack of separation between dwellings, reduced front setback, and cuboid form."
The agenda noted issues including accessibility, a lack of diversity for each dwelling, bin storage, car parking, energy efficiency and balconies encroaching too far forward.
The proposal has attracted 11 objections from residents of Donaghy Street, and the adjoining Collins Street.