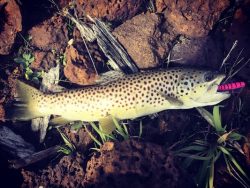 On the Bite, by Chris Pitman
Anglers caught mixed bags of flathead, salmon and pinkies around Corio Bay's inner-harbour over the past week.
Salmon schooled up in large numbers from Royal Geelong Yacht Club through to St Helens, sometimes easily identified by surface feeding commotion.
Casting three-inch soft plastics was the way to go, with the fish averaging 30cm to 35cm.
Pinkies held tight around structure, with the grammar school lagoon productive while also hosting some excellently sized garfish.
Clifton Springs' squid kept anglers entertained again with bag-limit captures. The nearby channel fished well for smaller-model gummy sharks and the odd snapper.
The entrance to Swan Bay gave up some large squid on artificial jigs, while similar grounds produced whiting during evenings.
Queenscliff Harbour produced silver trevally. Trelly's Fishing World Geelong's Adam Van Der Lugt landed numerous fish on Gulp turtleback worms, although the average size was down compared to last week.
Anglers fishing offshore from Ocean Grove and Barwon Heads boated impressive gummies to 20kg in 30m-plus with fresh squid or fish fillet baits.
Surf beaches fished extremely well for salmon to 2kg on lures during the day or baits at night. Anglers fishing after dark also caught gummies and the occasional pinkie reaching 2kg.
Southern bluefin tuna continued entertaining anglers from Port Fairy to Portland. Trolling Rapala X-raps or small skirted lures worked.
Freshwater fishing was probably this week's stand out, with trout and redfin.
Wurdee Boluc Reservoir produced redfin to 40cm on lures casting considerable distances then worked close to the bottom. Both rainbow and brown trout were also banked.
I fished Stony Creek Reservoir on Saturday, landing brown trout from 800g to 1kg on pink Tassie Devils and Atomic Jerk Minnows. Bait anglers had success with worms on the bottom.
Lake Bullen Merri again gave up Chinook salmon and rainbow trout to 1.5kg. Next door, Lake Purrumbete continued producing huge numbers of redfin taken along with both trout varieties.
Next week should be worth fishing at Wurdee Boluc for big trout and redfin, while evenings at St Leonards should be good for whiting or, in the deep water, gummies.