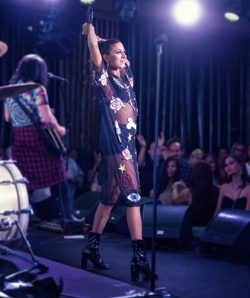 Crazy crowd choreography is the best part of rocking with a 90s tribute act says Boombox lead singer Stephanie Di Ciero.
"Sometimes, it's from when the song was first released," she said.
"Or people remember the choreography from the video clip and bring it back to life out on the dance floor."
Born and raised in Melbourne's South East, Di Ciero sang at weddings and worked in retail before joining the 90s group.
"I began singing lessons at 10 years old and regularly performed at concerts and school musicals. So my involvement with music started at a very young age.
Di Ciero played regularly at Crown Casino during the past year with the 90s act, but looked forward to coming to Geelong.
"Geelong is, of course, known as a rock and roll town and always has a great crowd," she said.
"I had a great time on my last trip to Geelong. It's nice to be able to perform in a different city other than Melbourne."
Di Ciero, who likes to go out and dance herself, said the energy of a good crowd was infectious.
"And, of course, it's amazing when everyone is singing along with me.
"We not only play for people who know the 90's well, but for anyone who loves to dance and sing and have an amazing night out."
Boombox plays the classic 'boy band' hits and 'sing-along' rock anthems like Zombie and Song 2. They also pay tribute to one of Di Ciero's favourites No Doubt.
The lead singer said she loved taking people back to their childhood when they were "obsessed" with Backstreet Boys or Savage Garden.
"It's the whole package; the best of an amazing era, with a powerhouse of sound, high energy, costumes and fun."
The band plays at the Sphinx Saturday, 20 May.