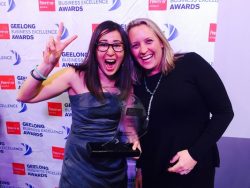 Oishi-m shined in retail in the 2016 Geelong Business Excellence Awards, taking out the category in its competition debut.
But for the owner of the children's clothing business, Miyo Fallshaw, entering the awards was even more important than the exposure.
"Winning an award was the icing on the cake," she says. "We'd already learnt so much through the application process."
"It was amazing milestone to stop and recognise. But it's more about the process of what you learn about yourself along the way."
Miyo got some external business consultants to take a look at Oishi-m recently as part of a State Government program.
"We found the business awards application process was a more comprehensive review of our business than getting expert consultants to review it!" she says.
Miyo says the award's criteria are perfect for local businesses to look at their achievements and what opportunities there are to grow.
"Taking the time to sit down and do the application process was incredibly rewarding."
Miyo joined Oishi-m eight years ago and has been the sole owner for just over a year.
The Bellbrae trader loves operating in the Geelong region and being surrounded by creative talent on the Surf Coast.
"It's an incredibly exciting time in Geelong for up-and-coming businesses," she says.
The retail star said Oishi-m is promoting Geelong to the world.
"We're actually bringing a lot of customers to Geelong and the Surf Coast," she says.