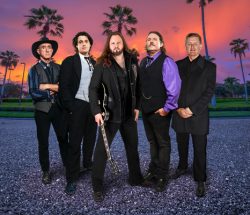 By Luke Voogt
Glaswegian David Grey says people flock to his tribute act "to hear the Eagles the way they remember them".
"If you're an Eagles fan, this is the only show you'll have to see," he told the Indy.
"We treat the theatre as a time machine, and try to take the audience back to the '70s."
The tribute's 'Don Henley' said he and his band mates took imitation to the next level.
"It's a bit different from every other Eagles show," the 43-year-old Scottish expat said. "We play all the characters."
The band mimicked Henley, Joe Walsh and Glenn Frey with the enthusiasm of "diehard Eagle fans", he said.
"We spend a lot of time perfecting the harmony vocals.The chemistry (between us) is amazing – it's as if it was meant to be.
"They're great guys to be around and it's a ball touring with them."
Grey said some tribute bands mocked The Best of Eagles as a "clone show". "But we take that as a compliment."
With many of The Eagles out of action or pursuing solo careers, Grey said his act was the closest thing to the original for the newest generation of fans.
"There's a lot of pressure on every Eagles show in the world because we've got to keep the flame going."
Grey was playing in an Eagles tribute in the when The Best of Eagles producer noticed him in action.
"We used to tour around Europe," he said.
He joined the band for its Hotel California tour in 2016, performing for more than 10,000 fans across Australia.
"So we just decided to give it a try and we got some good reviews, so we just went with it," he said.
"This country is fantastic; you can survive in the music industry full time. There's a lot of places you can't do that."
Grey has played in Geelong with the tribute act before, but said next weekend would be his first time at GPAC.
"It was really buzzing last time in Geelong," he said. "The response was phenomenal."
Readers may recognise the versatile singer from his other tribute The UK Bee Gees, which toured Geelong in February.
The Best of the Eagles play at Geelong Performing Arts Centre's drama theatre on 20 May.