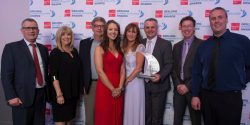 Prestige Jayco have their eyes on Geelong's premier business award this year, says the company's Jess Gregson.
"That's another reason we keep entering," she says. "We want to better ourselves and we definitely want to get the big award."
The caravan dealer made Geelong Business Excellence Awards' Hall of Fame after big wins over the past three years.
But they're yet to get their hands on the big one.
"It motivates us to do even better," Jess says.
Prestige Jayco has won the retail business award twice and last year took out family business of the year.
"It was a really proud moment to be recognised," Jess says. "It's excellent exposure for us."
"We take so much pride in being a family-run business, so to be acknowledged for that was amazing.
"It's a really inspiring night to see local businesses supporting each other and celebrating."
After almost two years at Jayco, Jess feels right at home at the family-owned business.
"I love the variety in my job and the people I get to work with," she says.
Jess credits much of Jayco's success at the awards to their community involvement with groups like Karingal and Give Where You Live.
"We do a lot with both of them," she says.
For Prestige Jayco, the awards are all about showing "we're more than selling caravans" Jess says.
The dealer sells accessories, offers servicing and warranty and custom makes annexes for caravans.