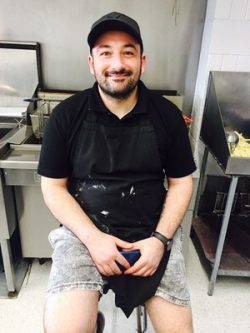 When Highton fish and chip maestro Pasquale Di Maio heard he had been nominated for the Geelong Business Excellence Awards he was rapt.
"We got the letter a few weeks ago and we were shocked," he says. "It was nice to get that recognition for what we have done."
Pasquale reckons one of the store's gluten-free customers might have nominated them "because we've put a lot of effort into that".
The financial advisor of 13 years says his wife Melissa – a celiac – was part of the motivation for opening the store.
"I wanted to run my own business and my wife loves fish and chips."
Pasquale bought and renovated the business a year ago, introducing a big new range of burgers and fresh fish.
"In terms of fish and chips, I want to be the greatest," he says.
The first-time entrant looked forward to competing against Geelong's best first-year businesses and the region's hospitality sector.
"There's some hot competition and some great venues in Geelong. But we know we do fish and chips very well."
"We have some good young kids that work hard and take pride in the shop, so we would love for them to enjoy some recognition."
Pasquale and Melissa have been flat out working to open another shop and finding time to complete their application for the awards.
"The process has been great to focus on the little things we can do to making great fish and chips," Pasquale says.