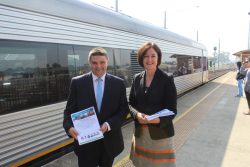 "A lack of planning" has left Geelong passengers without seats on increasingly overcrowded trains, according to opposition politicians.
The state and federal MPs launched an online petition on Wednesday calling for increased investment in passenger rail from the Victorian Government and the Commonwealth.
But Victorian Transport Minister Jacinta Allen slammed the petition as hypocrisy, saying the previous coalition State Government was to blame.
"This petition isn't worth the paper it's written on," she said.
"The former Liberal Government were an unmitigated disaster for Geelong commuters – slashing funding for V/Line and leaving passengers stranded on crowded trains."
Corangamite MP Sarah Henderson said she would join five state Liberal MPs collecting signatures on local trains in coming weeks.
Ms Henderson called for more funding to fix the Geelong-Warrnambool line, more daily services and more express, peak-hour trains between Geelong and Melbourne.
"The $3.65m Regional Rail Link has proved to be a short-term fix only and is almost at capacity with services becoming increasingly slow and over-crowded," she said.
Ms Henderson said the State Government had yet to deliver a business plan for a rail duplication between South Geelong and Waurn Ponds, despite $1m from the Turnbull government.
But the Transport Minister said her government was yet to receive any of that money.
"The Turnbull government hasn't yet provided a cent to build better public transport for Geelong or anywhere else in Victoria."
Ms Allan said that her government was "getting on" with the business plan for the duplication with $3 million in last year's State Budget.
She said she would not take "lectures" from the former Liberal government "failures" which "slashed $120 million out of V/Line".
"We've restored and increased that funding, with $198 million for the regional operator in last year's State Budget."
"The former Liberal government didn't order a single regional carriage for two years – we ordered 48 in our first two years."
Ms Allan said the previous government added 10 new services for Geelong in four years.
"We've already added well over 200. We're adding more services, new carriages and delivering the improvements Geelong passengers need and deserve," she said.